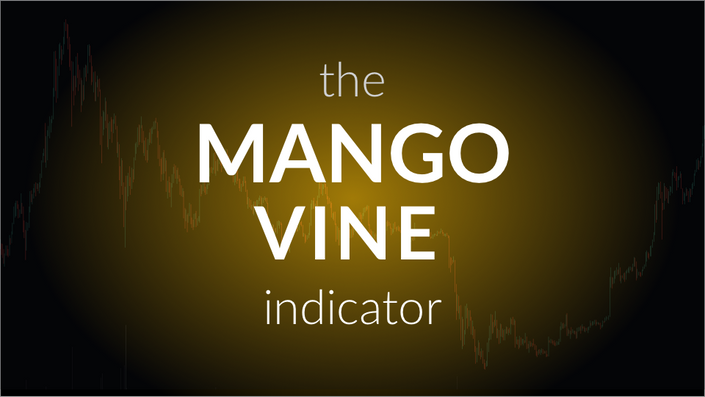 Mango Vine Indicator – A Multi Faceted Indicator
The indicator that keeps you far from losses, and closer to profits!
Watch Promo
Enroll in Course
LIMITED TIME OFFER: All crypto payments will be eligible for $50 OFF the original price! :)

Contact: ( [email protected] ) to pay with crypto


BORN FROM NECESSITY.
Why did I create this indicator? Well, primarily because I needed it myself. I was looking for certain data that no indicator out there was able to provide. I found make shift solutions. But it was frustrating me, and consuming far too much of my time. I needed to be quick with my trade entry, or I missed the opportunity. Missed opportunity = missed profits. Missed profits meant slower path to financial freedom!
So, I decided to put my decade worth of experience Computer Science and Mathematics into some godam use. I decided to research & code my own indicator! Voila. That's how the Mango Vine Indicator was born.
Born out of necessity and frustration.
EDGE
The Mango Vine Indicator encompasses the findings of a years' worth of rigorous backtesting & research. This was our homerun. Markets are all about edge. The Mango Vine Indicator added a serious edge to our trades and tipped the odds in our favor drastically! Tipping the odds even slightly in your favor can be the determining factor between you being a winning trader or a losing trader. This indicator has ensured we catch some monster trend trades, and dodge away from some ugly situations!

Long-term Trend Trades

One of the biggest influencing factors for our trend-trade wins. The mango Vine helped flip bullish when the rest of the market was still bearish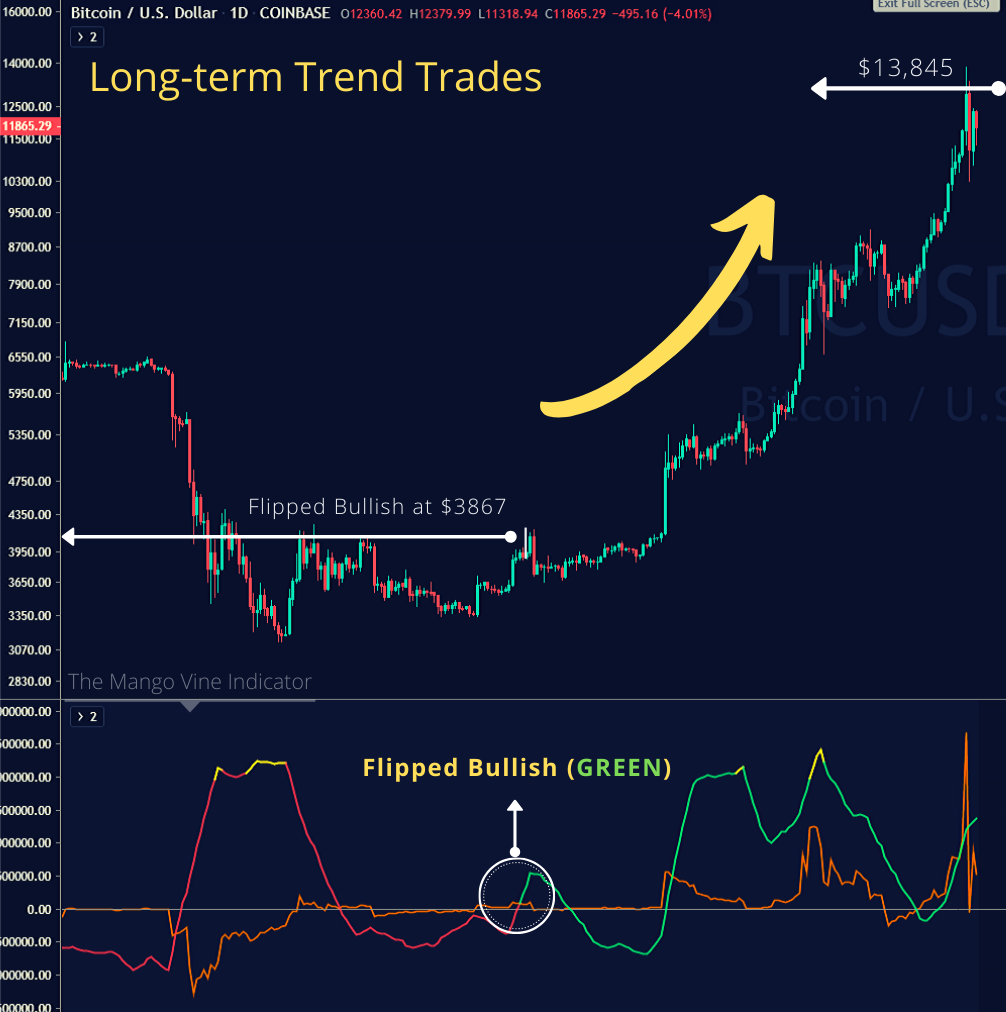 Short term Range & Scalp trades

Extremely powerful for range trades when the market is choppy, or in consolidation. As the daily videos show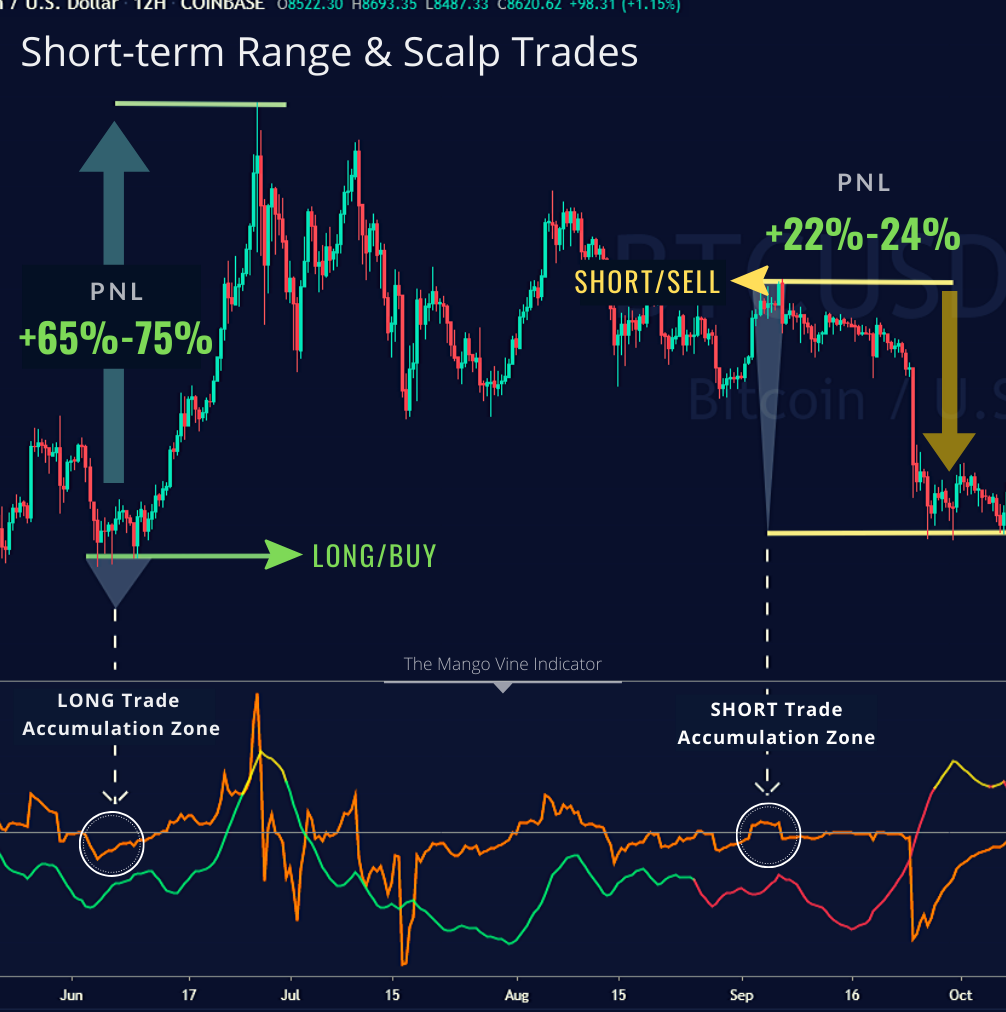 Warning Signals For Extended Moves

We don't pick tops or bottoms at Mango. But we do look for signals to prepare for extreme market moves, The Mango Vine helps with that as well - (and has saved us from some ugly situations!)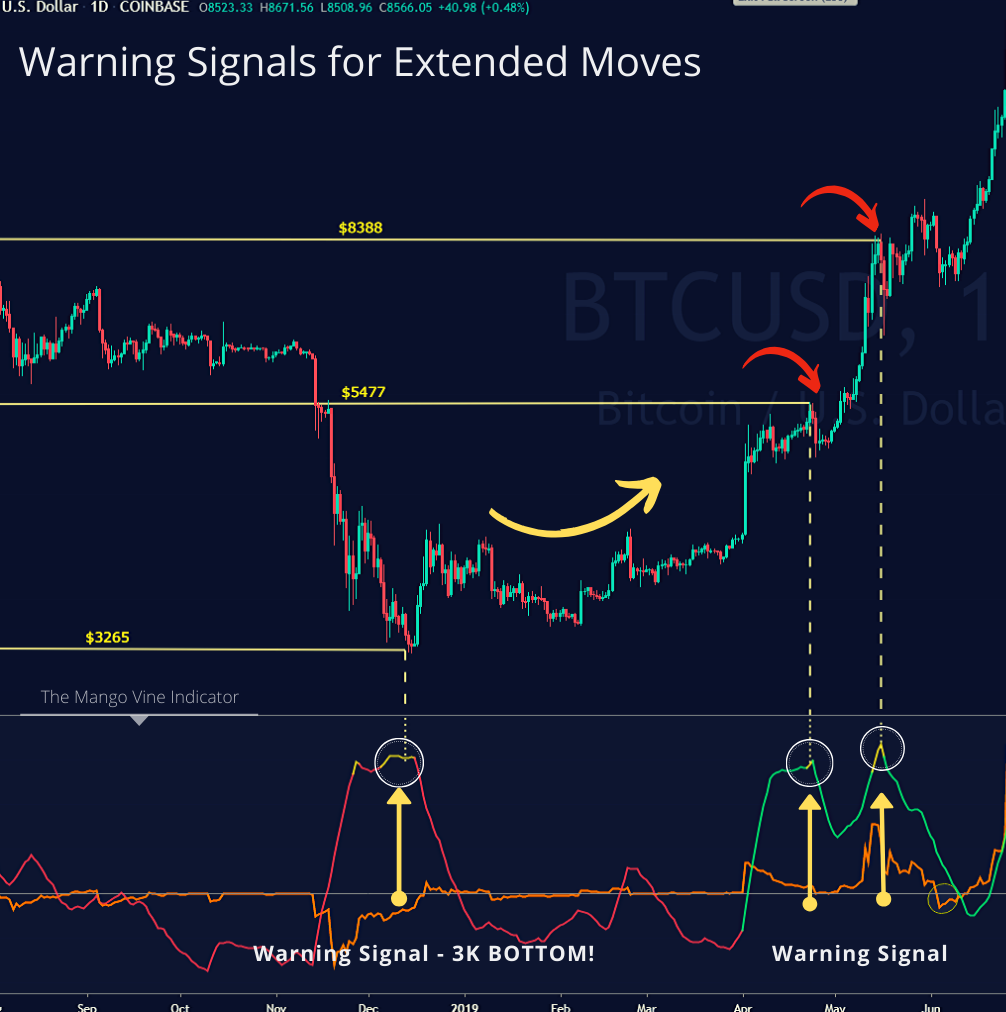 Mango Wins - A screenshot of Roberts' PnL taking Mango Vine signals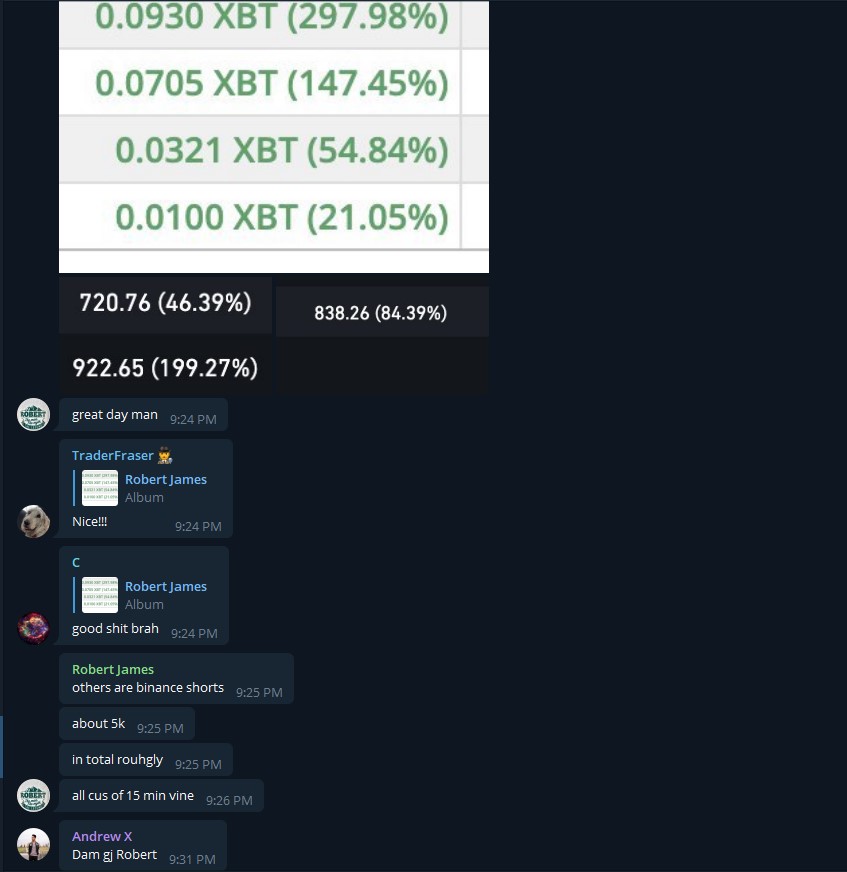 Mango Wins (Forex) - Tommy caught the perfect warning sign on USD/CAD - Calling the top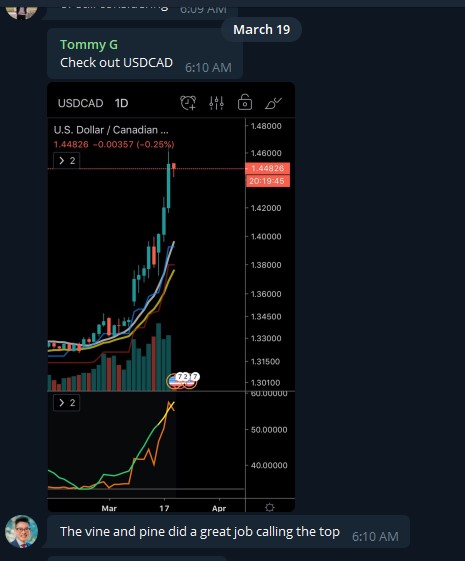 Mango Wins - Mango Vine kept D on the right side of the market

Mango Wins (Altcoins)- 4hr Mango Vine bullish signal on MATIC. Swift move to the upside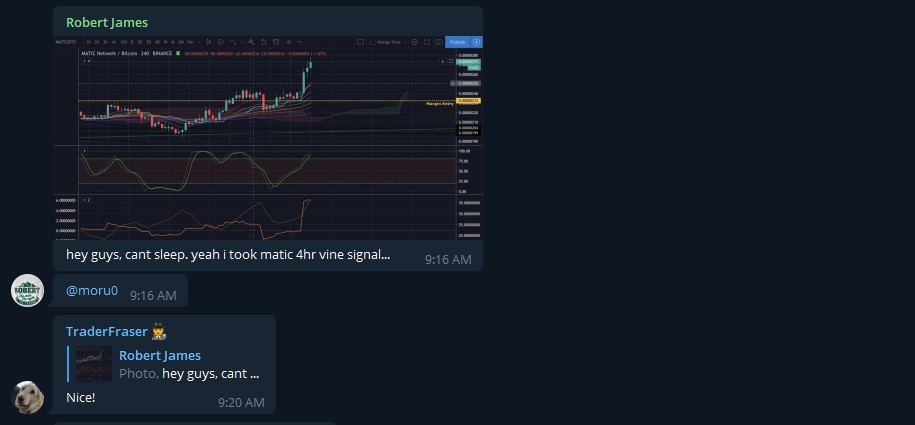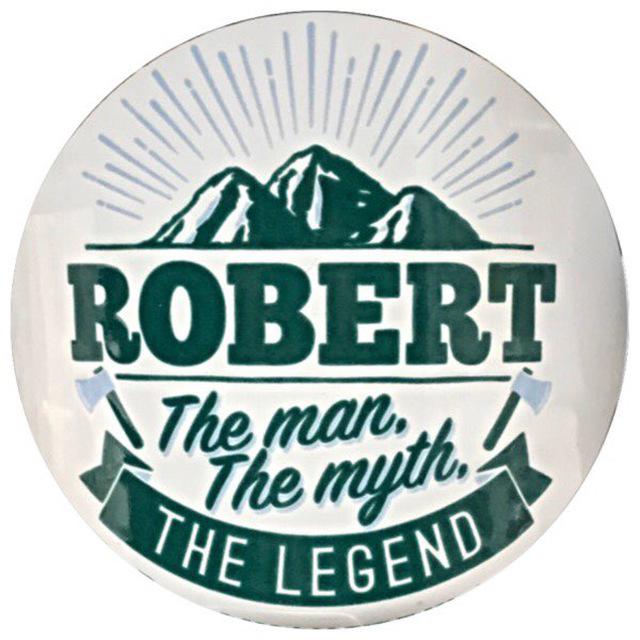 "Omg man, the vine is amazing @Shawn as you know i was in long from 8129 and close half my position at 8800. then i VERY nearly closed the other half during the big drop, but held strong and the vine helped me do that as it was setting up for another long call during that drop. so i re-entered at 8300. starting to panic a little when vine turned red and was looking for a small bounce to get out fully but missed it. now vine turned green again on hourly. loving it man!


I'm finding now if you literally just followed the vine. even if it got a wrong call you would win way more than lose if you dont get greedy! since i fully committed to it and just stopped going against it I've had 10 winning trades in a row now across multiple markets!"
– Robert James, A Mango Vine User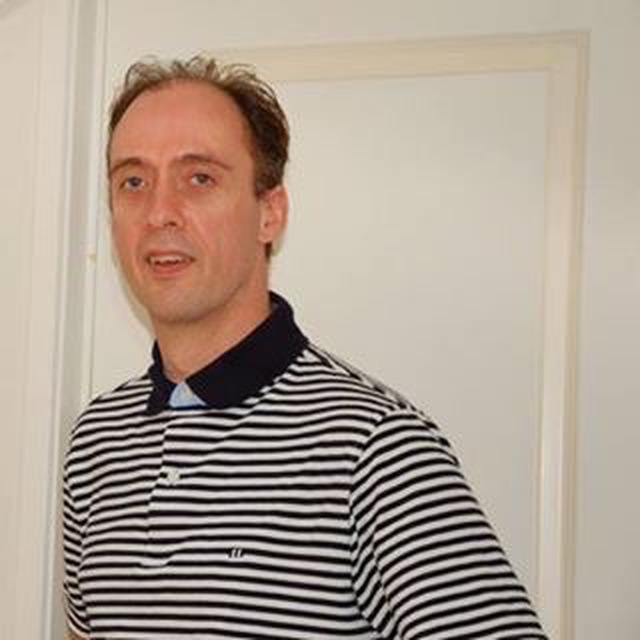 "Have been using the Mango Vine Indicator now for the last 6 months, the indicator have giving me just the extra confirmation I needed to be confident to get In a trade. The Vine indicator give me better spot entry's and warning signals on time to get out of the trade to take profits. It helped me to be more successful as a trader and get more profits out of my trades with the Vine Indicator."
– Cor, A Mango Vine User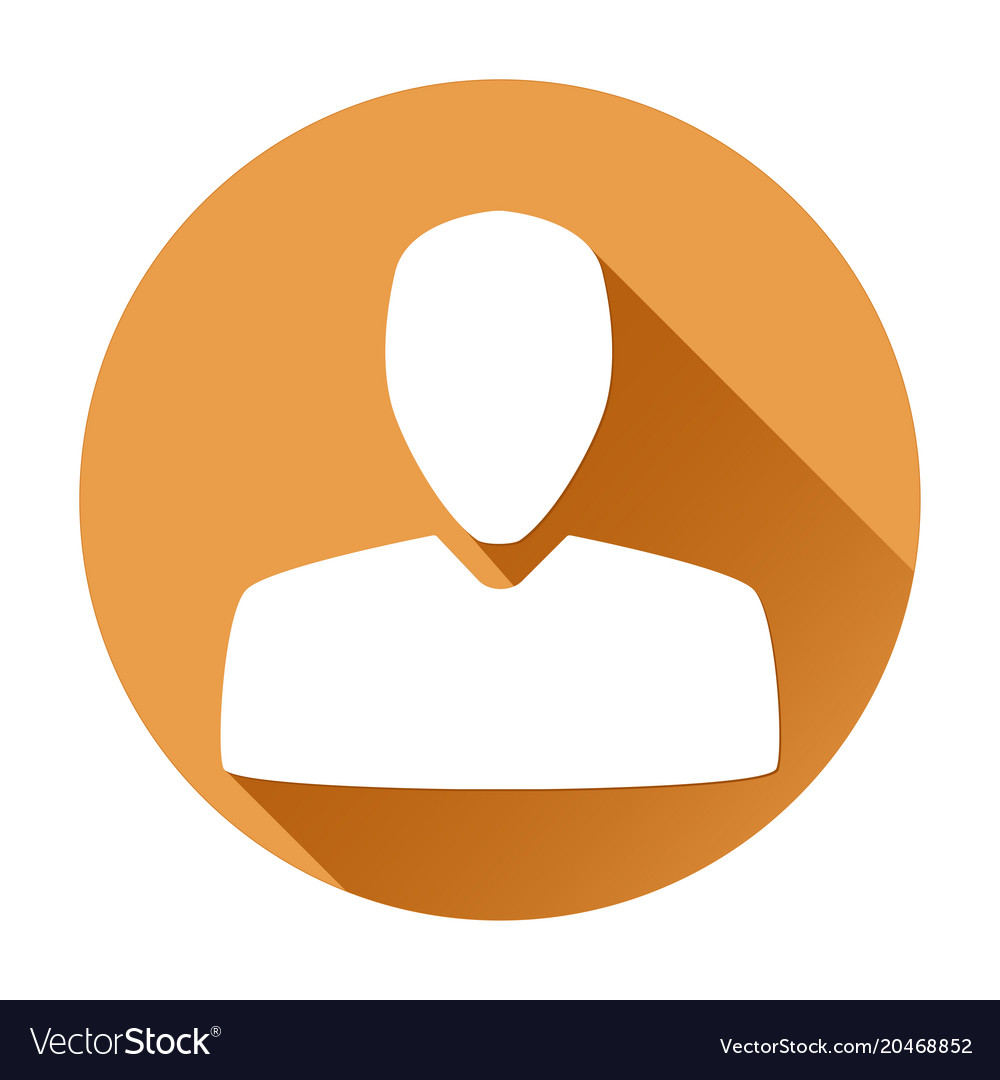 "Hey broski, I wanted to thank you a lot!! I looked at the game plan you setup, confirmed it with mango vine and all that stuff, and FINALLY got smart and Laddered in after talking to ( MangoVine + Seed member)! I wish I laddered in better... but one step at a time! Thank you for helping me see something I might have otherwise missed since I am new to this. I appreciate the insight"
– TimeDrift, A Mango Vine User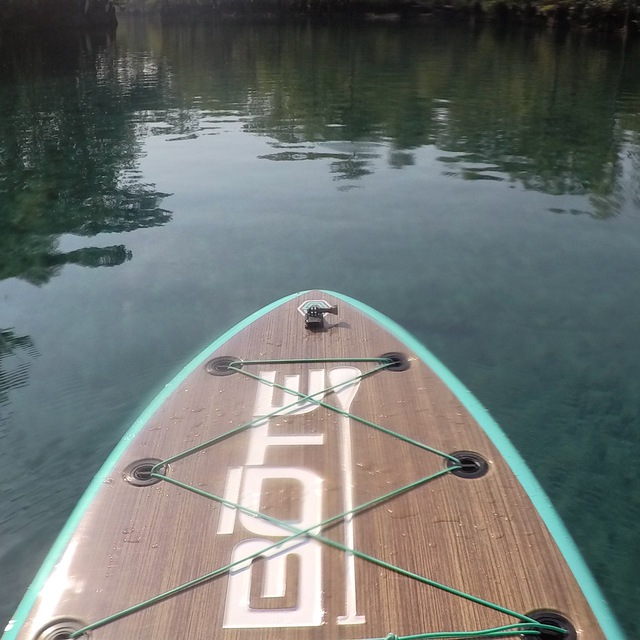 "The indicator has already paid for itself and more! I've tripled my mini account"


– Tea Bab, A Mango Vine User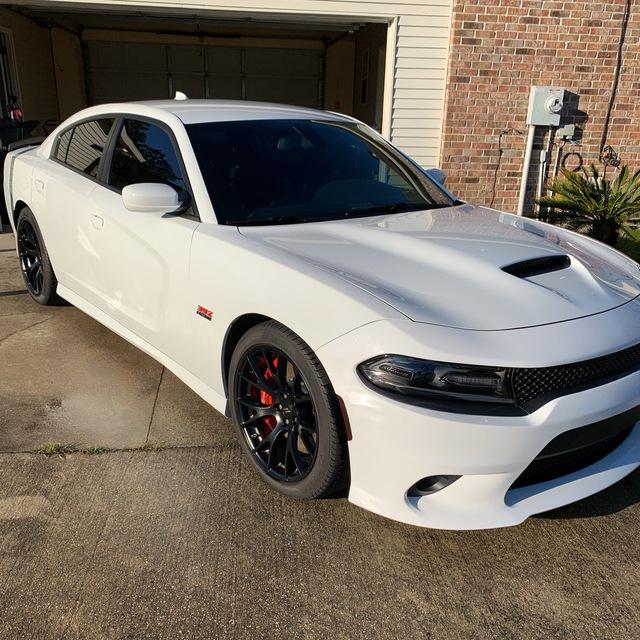 "I'm loving the vine indicator. That thing is powerful"
– D Morgan, A Mango Vine User
Bounded Access
Checkout may be disabled when you're reading this.
Why? Because we are limiting sales and opening access infrequently.
We believe the Mango Vine to be a massive edge for any trader. And a mass distribution of the Mango Vine would chip away at that edge. Not to neglect the huge reveal of our personal system - Yes, we've taken some of our most profitable trades off of the Mango Vine Indicator

Wondering why we're willing to give away our best hitter? We're not - The Mango Vine will be exclusive to a limited number of members only. Currently accepting only beta-entrants)
The Mango Vine Indicator will be exclusive
- in an effort to protect the integrity and edge of the system.

Your Instructor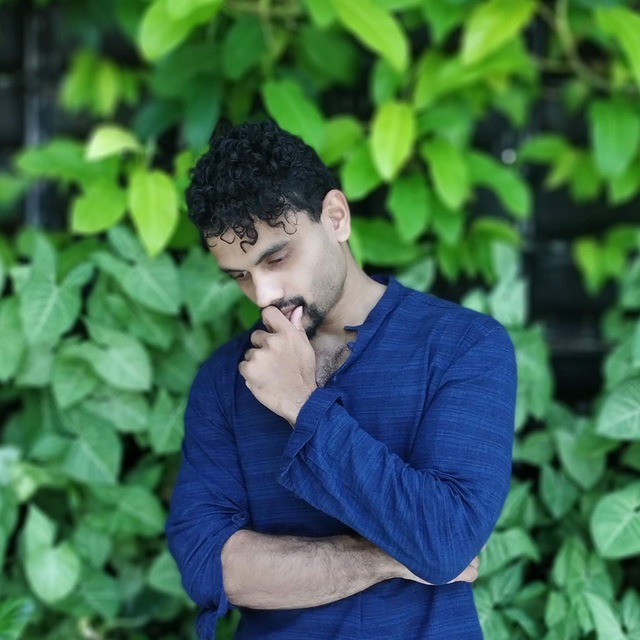 Shawn has a voracious hunger for financial markets, monetary history and technical analysis. This hunger combined with his strong fundamental backbone gives him a unique and powerful edge on the markets. Shawn is an autodidact and has always loved to teach.

Market Analyst & Fundamental Researcher
PhD Candidate (Blockchain Tech)
MSc in Computer Science (Ontology Engineering)
Former Product Manager, Software Developer

A Multifaceted Indicator


The Mango Vine Indicator is a multifaceted Indicator that can be used for any of the following:
Mega trend Entries & Exits
Catch the move on time - Not too early, not late
Laser precision accumulation zones - Longs and Shorts
Over-extended move warning signal
Frequently Asked Questions
When does the course start and finish?
The course starts now and never ends! It is a completely self-paced online course - you decide when you start and when you finish.
How long do I have access to the course?
How does lifetime access sound? After enrolling, you have unlimited access to this course for as long as you like - across any and all devices you own.
LIMITED TIME OFFER: All crypto payments will be eligible for $50 OFF the original price! :)

Contact: ( [email protected] ) to pay with crypto